A federated approach to data science and machine learning means reduction in the number of data scientists required on projects (roughly ~60% less), reusability of ML project components, increased access to data, shared ownership of models among customers, and a group approach to solving large scale industry problems. By building with federations as a goal, multiple customers are moved along the data science journey with industry expertise together.

Federated Learning Platform
We provide the backbone federated learning technology for scaling your ML applications. To achieve this we offer a sector agnostic federated-learning-as-a-service platform. Our systems are built on servers in an European owned and operated data centre to ensure data governance.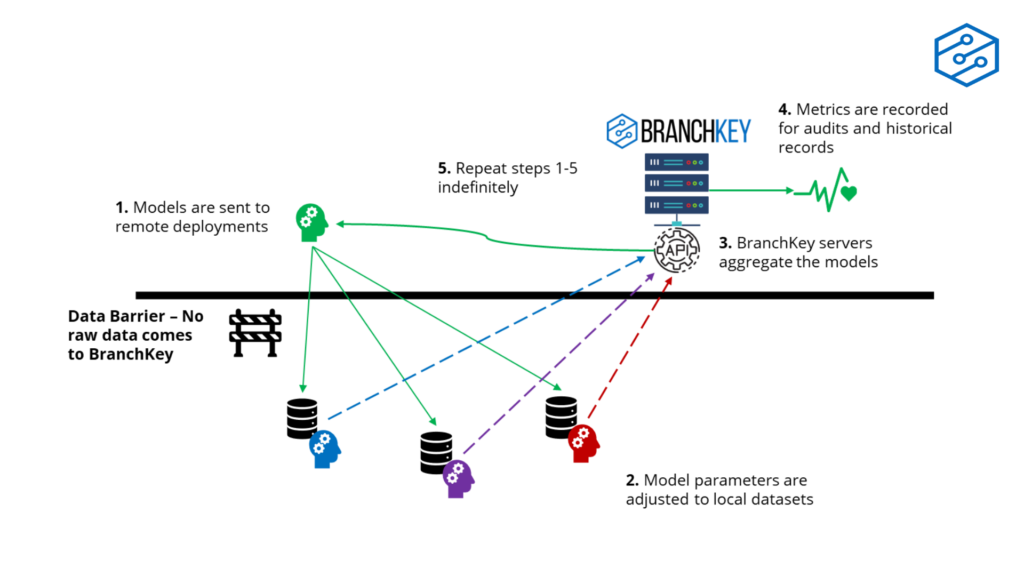 Federation Neutrality and Data Ownership
We take a neutral stance in service delivery by ensuring our customers data remains their property. To maintain this neutrality, we charge a fee. We focus our delivery on security, quality, ease-of-use, and scalability. By design a federated system gives the control to it's members, we follow this model, by not requiring to share the model or the data used to train on.
BranchKey makes available a management web application for oversight of Federations and their members. We offer a Graphical User Interface (GUI) to create and manage custom federation setups. Via these federation Trees, you grant third party users access to the resources of you federation. On request and to a requested volume, we offer data spaces accessible to all Tree members to share non-sensitive and anonymised data.

Developer Interfaces and Protocols
BranchKey exposes REST APIs to upload and download the model weights and the aggregated output. In order to send signals down to remote clients, BranchKey servers also expose a publisher-subscriber architecture via the AMQP protocol. As a combined package for using the REST and AMQP APIs, BranchKey offers a Python Software Development Kit (SDK), publicly available via the PyPi software repository services.
100% European Infrastructure
BranchKey's application servers are managed in European owned data centres. No user data leaves EU ownership. To increase the standard of trust of this system, BranchKey is working to become ISO certified.